Han Earl-Park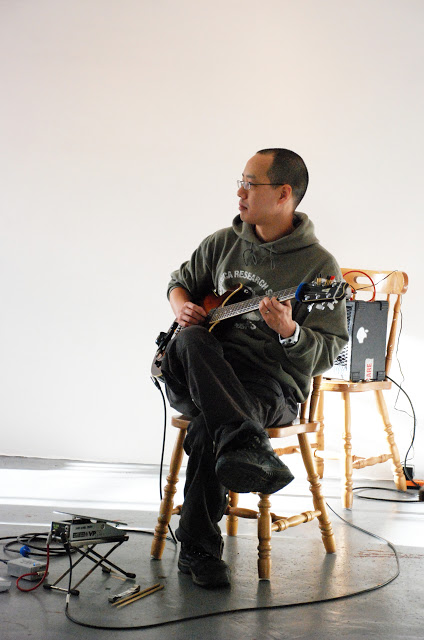 Photo by Stephanie Hough.
Improviser, guitarist and constructor Han-earl Park (박한얼) (www.busterandfriends.com) has been crossing borders and performing fuzzily idiomatic, on occasion experimental, always traditional, open improvised musics for twenty years. He has performed in clubs, theaters, art galleries, concert halls, and (ad-hoc) alternative spaces across Europe and the USA.
Park engages a radical, liminal, cyborg virtuosity in which mind, body and artifact collide. He is driven by the social and revolutionary potential of real-time interactive performance in which tradition and practice become creative problematics. As a constructor of musical automata, he is interested in partial, and partially frustrating, context-specific artifacts; artifacts that amplify social relations and corporeal identities and agencies.
Ensembles include Mathilde 253 with Charles Hayward and Ian Smith, Eris 136199 with Nick Didkovsky and Catherine Sikora, and Numbers with Richard Barrett. Park is the constructor of the machine improviser io 0.0.1 beta++, and instigator of Metis 9, a playbook of improvisative tactics. He has performed with Wadada Leo Smith, Paul Dunmall, Evan Parker, Lol Coxhill, Mark Sanders, Josh Sinton, Louise Dam Eckardt Jensen, Gino Robair, Tim Perkis, Andrew Drury, Pat Thomas and Franziska Schroeder, and as part of large ensembles led by Wadada Leo Smith, Evan Parker and Pauline Oliveros.
Festival appearances include Freedom of the City (London), Sonorities (Belfast), ISIM (New York), dialogues festival (Edinburgh), CEAIT (Los Angeles) and Sonic Acts (Amsterdam). His recordings have been released by labels including Slam Productions, Creative Sources and DUNS Limited Edition.
Park taught improvisation at University College Cork, and founded and curated Stet Lab, a space for improvised music in Cork.
Releases:
Richard Scott and Han-Earl Park
Artillery